Pine Lake Resort
Nestled within the Mountains of Mpumalanga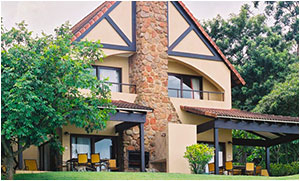 Pine Lake rests along the banks of Lake Longmere and perfectly nestled within the mountains of Mpumalanga . First time visitors, as well as regulars, are taken aback by the rich natural surrounds and magnificent mountain scenery. This outstanding location is well positioned for daily excursions to a myriad of activities and sightseeing spots. A superb golf course, top quality restaurants including the Caster Bridge Farm for a unique shopping experience that is in close proximity to Pine Lake.
Chalets
Chalets are self contained with an equipped kitchen, spacious living area and tastefully decorated furnishings. Outside is a private patio with braai area and inside a cosy fireplace for those chilly winter nights. Each chalet, ideal for family living, accommodates 6 people with three private bedrooms and two bathrooms on separate levels.
Did you know that as an owner you are entitled to sell your timeshare (unit/chalet/week) privately? This is where Mande Properties is fully competent to assist you with selling, purchasing or even renting your timeshare chalets. Having been directly involved with Sabi River Sun from its inception more than 20 years ago, Penny Mande, with her 28 years experience in the timeshare industry, is well qualified to help manage all your holiday investment needs for Sabi River Sun.